Buying Vs. Renting
27. September 2017
Realfiction
Dodge the lengthy deliberations of whether it makes sense to invest in our holographic displays, and simply try out renting them instead. Available in Western Europe and the United States, our new rental program lets you use our display solutions for a certain time or a specific limited project, without making the major upfront investment or long-term commitment.
Getting the attention without the worries
Holographic displays are a great way to create attention in busy settings with loads of people passing by. But acquiring a display such as ours often takes a good deal of planning ahead and internal budget management as well. Perhaps you are in the situation of only attending one single trade show this year, or having a single campaign roll-out where you see the potential for the use of our displays. In any case, an investment in any type of hardware when you have no use for it, in the long run, would seem a bit over the top.

Imagine planning a nation-wide product launch in a hundred retail stores, but without having a similar campaign with an opportunity of re-using the displays directly planned for a later time. Storage issues, short-term efforts, and maintenance costs are all things that could stand in the way of using any type of digital display, but luckily our new rental program eases those question marks significantly.

More options with rentals
Renting our displays instead of purchasing is your opportunity to create, say, a holiday campaign in several stores or on various locations, where you might consider buying numerous displays but do not subsequently have a use for them afterward.

A great example of the benefits gained from renting as opposed to buying is with brand activations in multiple shopping malls, where you might consider the large XXL3. In most cases, brand activations have short timespans and multiple locations. Depending on the specifics, the rental program could be a great way of using the large Dreamoc XXL3, without the investment of buying it upfront.

Imagine a business planning attendance at two different trade shows to show off and explain their complex products to the audience, using a set of two or three Dreamoc XL3s but having no further plans to use the displays afterward. Again, it makes sense to rent the displays as opposed to investing in a purchase.
Different displays for different occasions
The rental program currently features the DeepFrame and four different Dreamoc displays - the Dreamoc Diamond, HD3, XL3, and the XXL3 plus various stands and flight cases.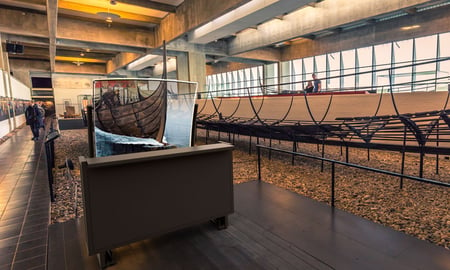 The DeepFrame is a window-like mixed reality display that makes it possible to merge the real and virtual world and create experiences where physical and digital elements blend in real-time. Spectators can collectively experience lifelike digital content reflected through the optical lens as a virtual layer on top of reality. This means you can see and interact with anything from movie characters to historic battles taking place right in front of you. Rather than transposing the individual through the use of headsets or VR glasses, DeepFrame brings the audience together to experience enhanced reality from exactly where they stand.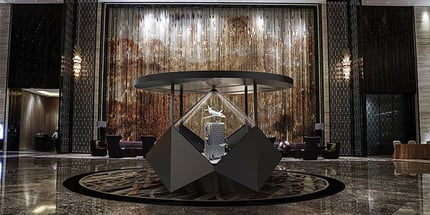 The Dreamoc Diamond is our most elegant display, taking an innovative and highly attractive approach to driving attention, positioning brand values and showcasing distinctive product features. Designed and developed in collaboration with Danish designer Steffen Schmelling, the Dreamoc Diamond offers our most exquisite Dreamoc experience at this time. With 4-sided visibility, this is one of our largest mixed reality displays ever built, specifically designed for events and brand activations in shopping malls, trade fairs, and other high-traffic locations.The diamond-shaped optics allow for larger products than ever before to become enveloped by superimposed holographic content.

The Dreamoc HD3 is the perfect fit for retail settings where you need to create attention and convert shoppers in a busy commercial setting. In this display, you can show off your product with the beautiful holographic content surrounding it, tickling curiosity and grabbing attention from passers-by. Less than two feet across the HD3 has the presence of something much bigger when its three visible sides flaunt the beauty of your holographic content, inviting audiences closer to see the magic of mixed reality.


The Dreamoc XL3 is our larger display model and a solid choice for areas in trade events, shopping arcades or larger retail focal points. It is a hero in making magical impressions in bustling surroundings, and when placed on the stand with shelf, et voilà - you have a commercial beacon that just screams see-me, buy-me.

The Dreamoc XXL3 is the largest of our displays and makes a massive impression in settings like malls, airports, or at expos where lots of competitors are cluttering the space in search of attention from the audience. The four sides of the XXL3 gives viewers to all sides the opportunity to see your holographic content and communication.

We have carefully chosen these three displays for the rental program to make sure you can find exactly what you need for whatever marketing endeavor you choose to embark on. You decide if you want several displays for a series of events across the country, a few larger displays for a trade show, or maybe one major display for a month or two in your office lobby. The rental program makes it easier to go ahead with the decision of reaching your audience with holographic displays.