Boosting your expo awareness with innovative technology
18. February 2020
Realfiction
Getting people to stop and spend time at your booth is something that all companies strive for when attending trade shows and expos. But besides the obvious 3 o'clock open bar concept, there are many new and highly innovative technologies available to boost awareness and drive engagement at your tradeshows and events.
The upside? Besides creating a cool experience around your brand and products, adding innovative tech to your booth can:
Help increase event attendance by 20%.

Increase productivity by 27%.

Decrease costs by 20-30%




(Source:

Enterprise Event Marketing

)
Additionally, by adding a tech-savvy solution that you instantly position your business as both innovative and ahead of your competitors, and you can visually show-and-tell about your products and services in a much more engaging way, leading to overall better quality of the leads you return home with.
To help you navigate the many different tech-solutions out there, we have listed our favourite ones below. Happy reading!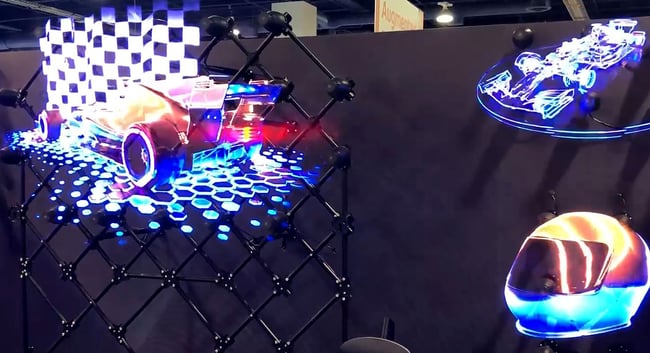 HoloFan
Imagine walking past a gazillion pretty booth designs at a trade show, and suddenly see a bird, plane, or Superman hovering above your head. Although some models on the market can be quite noisy to stand next to, the hologram fan is for sure a great tool for making heads turn and driving that initial interest to your booth space. You can even link multiple fans together to fill an entire wall of your booth, thus creating a larger hologram and overall cool experience.
Creating content for the holo-fan is pretty straightforward, as some of the most popular models even come with free basic software, allowing you to create simple things yourself, like a turning waffle-cone, your company logo, or simple single-word statements. The downside you ask? Well, besides the noise that is created when the holo-fan is running, remember to keep your fingers away from the spinning fan arms, or you might end up with a heavy manicure (or worse, a visit to the ER).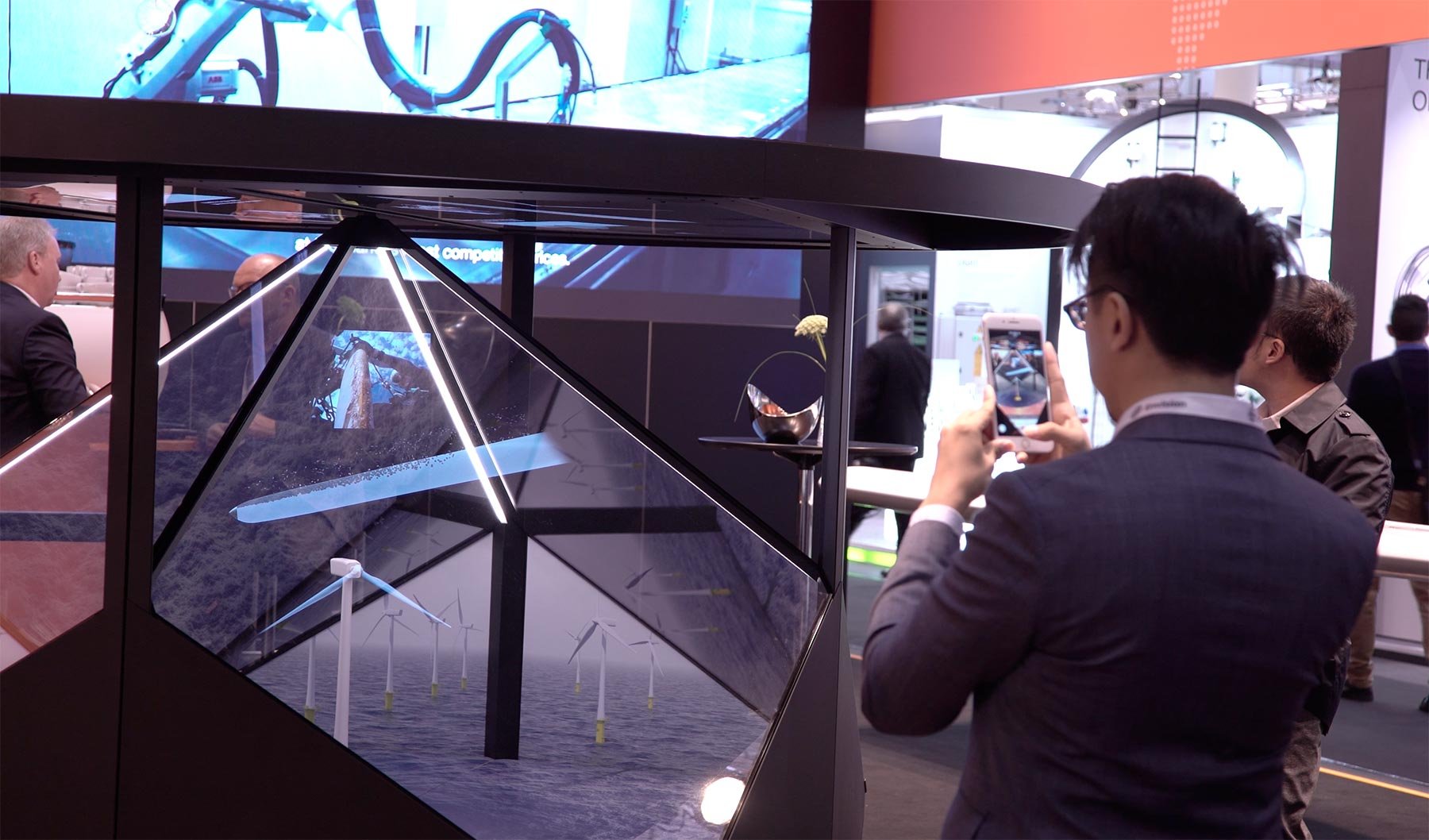 Dreamoc Diamond for Expo at Polytech stand 2018
3D hologram displays
The Dreamoc range is a portfolio of 3D holographic displays designed to merge digital content over an actual physical product or sample. By adding a digital layer, you can essentially make your product on display come alive and visually show the unique selling points to multiple booth visitors at the same time. With different sizes available, the 3D holographic display could be a great experience to add to your booth, if you have a rather complicated business offering or product that needs to be explained to trade fair visitors. Depending on the size of your booth space, the displays can either be installed as stand-alone units or integrated into your exiting booth design by mounting the displays directly to your wall system of choice.
The 3D hologram displays can easily be rented for one or more expos to suit your need, bypassing any upfront cash investment in hardware you really don't need. Developing the 3D content is much like ordering any other commercial or advertising video, as the process involves creating a storyboard and utilizing your existing digital assets. Combined with an interactive touch screen, the 3D hologram displays offer a cool setup for allowing visitors to explore your products on an even deeper level.
Regarding the process of creating 3D content for the displays, keep in mind that it will take around 3-5 weeks to develop your solution. Then again, your 3D content can then be repurposed over and over for additional fairs and even reformatted to work as digital elements on your other digital platforms like social media, web or digital signage.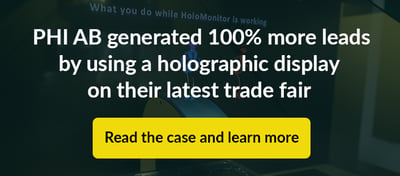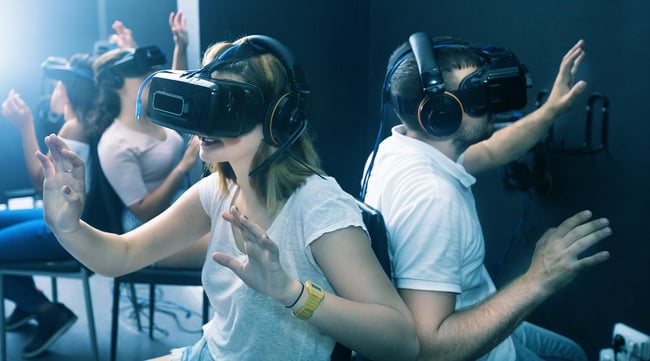 Virtual Reality (VR)
Need to show your visitors what the inside of your new factory looks like, or check out the impressive view from the top of a windmill? Then installing a VR experience at your booth might be the way to go.
Though not exactly fashion-approved, VR headsets offer a truly immersive experience second to none, when the purpose is to completely transport your booth visitors to another place on the planet. Although creating the immersive 3D content can be rather expensive and time-consuming to develop, VR offers a unique gimmick that will make sure your visitors spend a lot of time at your booth.
Originally, VR headsets are not ideally designed for multiple people to take part at the same time but placing two or three try-on stations at your space would still make it possible to cater for a good portion of interested leads. In other words, VR might not be the ideal tool for harvesting new leads and driving traffic to your space, as we humans tend to have a natural barrier for putting on wearable bulky gear in front of complete strangers.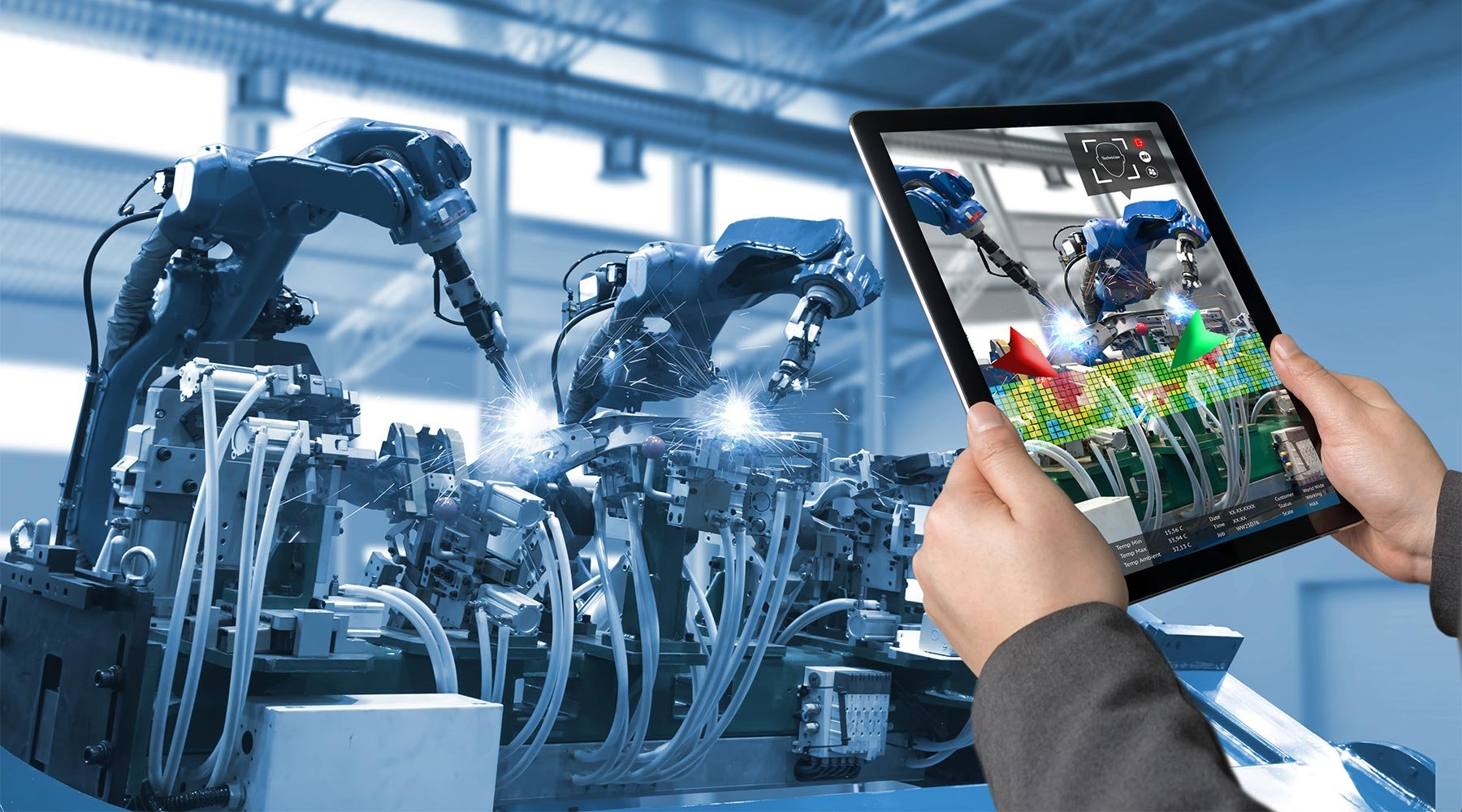 Augmented Reality (AR)
Situated in the crisscross of Mixed Reality and Virtual Reality, AR is best described as a digital layer to the world that can be seen by looking at certain objects around you through your smartphone or tablet. Say you have an important product sample displayed on your booth, AR makes it possible for visitors to use their own device to explore features and information by simply pointing your phone at the product.
Using the already built-in tech in your smartphone device, AR offers a cool experience for providing information about your products to your booth visitors. As opposed to VR headsets, Augmented Reality has a much lower barrier for engagement, as you don't have to force people to put on a device. Additionally, you don't even have to download an App, but can easily activate the AR experience by simply scanning a QR code or manually visiting a URL on your device's browser.
Developing the interactive content for an AR experience is normally a straightforward process, with many creative agencies out there to choose from. You should expect a higher cost though that for other solutions, as creating custom real-time graphics is indeed time-consuming.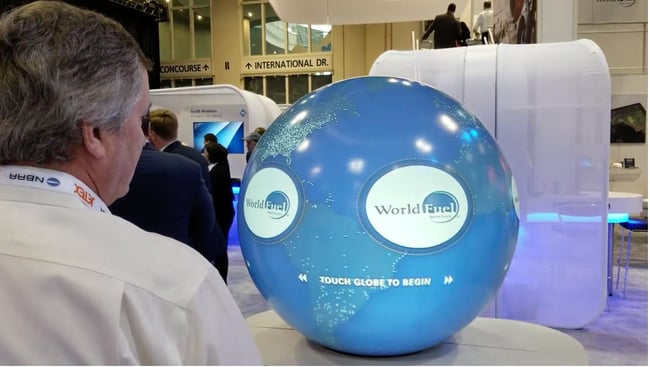 Projection ball
If your business purpose is all about renewable energy and saving the planet, then this solution might just be the right thing for you. The projection ball, or magic sphere, as it is also known as, is (yes, you guessed it) a large plastic ball with a built-in projector core. It makes it possible to project 360-degree images and videos from the inside of the sphere, creating a pretty cool experience that for sure will make people interested in your business.
The clever thing about the projection ball is that you can create an interactive setup on your booth. As an example, you could use the sphere to generate a map showing the location of your company's many production plants, factories or offices, and allow visitors to explore information by simply touching and clicking on the surface. It doesn't take up a huge amount of space, but on the downside, it might not be as immersive and wow for that long.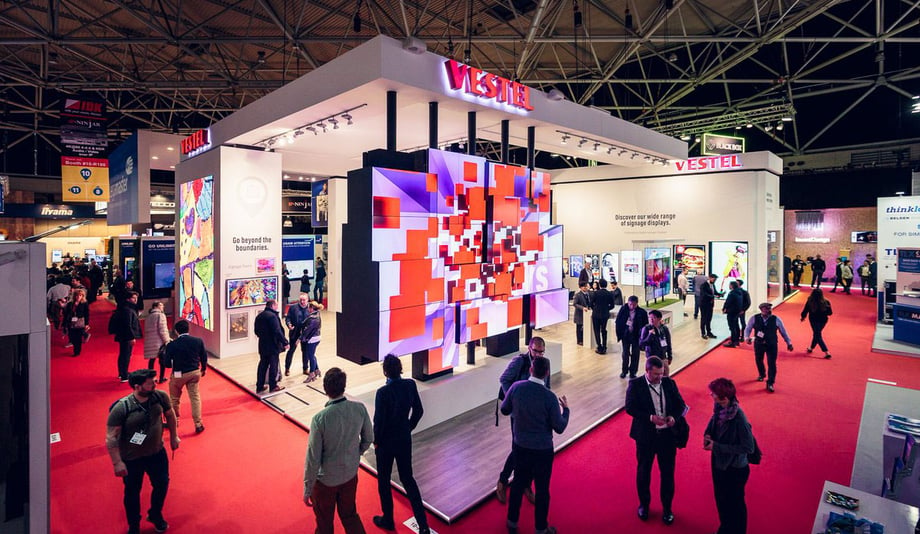 Digital signage
You just dedicated a hefty lump of your marketing budget to finally create the most inspiring, information-packed corporate video of your career. Surely, you want everyone to pay attention and see it at your upcoming expos, but in order to do so, you're going to have to play the good 'old game of "go big or go home".
Unless your company is directly involved in the business of manufacturing flat-screen TVs, you most like have to scale things up significantly to make sure you get enough views from trade fair visitors. A cool way of doing this is dedicating a proportional section of your booth design to create an entire video-wall setup. Today, most booth-building companies offer you to integrate module-sized screens as part of your stand design, allowing you to scale up the size of your screen as much as you want. Though essentially built as one-way communication, you could, in theory, add an interactive game and use the massive video wall as a way to keep people interested and engaged at your booth.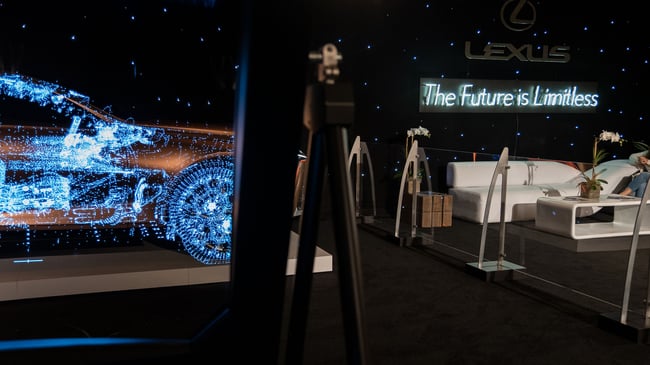 DeepFrame
Situated in the mysterious realm of Mixed Reality, the DeepFrame display offers a truly unique way of creating an experience at your trade fairs. Looking a bit like a giant window, DeepFrame works by projecting digital 3D content to appear in reality, when looking through the glass. The sensation is often pretty jaw-dropping, as you can create a detailed layer of information on top of a real product sample or let true-to-size digital elements appear on their own, like your entire range of cars for instance. You can even create a full-size human hologram to act as a virtual presenter on your booth and allow visitors to do a futuristic Q&A via the interactive touch screen.
Roughly 6-7 people can take part in the experience at the same time, and the display can either be rented as a stand-alone unit or built into your existing stand design. Creating your bespoke 3D content takes around 4-5 weeks, depending on the complexity and number of stories to communicate.
---
So, we have now taken you through our pitch of viable tech-savvy solutions that can be used to generate more awareness to your future expos. Depending on your timeline, budget and available space(s), some might be more feasible for your company to implement than others.