Making an impression with your trade show stand
21. August 2017
Realfiction
Attending trade shows and events is a great way of meeting your customers and business partners, promoting your brand or products, and possibly gaining new land. Making a good impression amidst the flutter of your competitors and an audience eager to browse over everything at once is a challenge, especially if you do not have the economic option to get a professional team to do everything for you.
We have gathered some of our own tips and pointers for you on how to show up well prepared and ready to get attention from your audience with the perfect trade fair stand.
Creating a perfect expo stand begins with setting goals and planning the stand and the whole exhibition accordingly. Your goals defines how you should design the stand and influences how to communicate to your audience. Perhaps you attend a trade show to get new leads, maybe you go to create awareness about your brand or a new product, or you might just be attending to make yourself attractive to new business partners. Either way, your goal impacts your effort as it tells you who your audience is and how to reach them in the best way.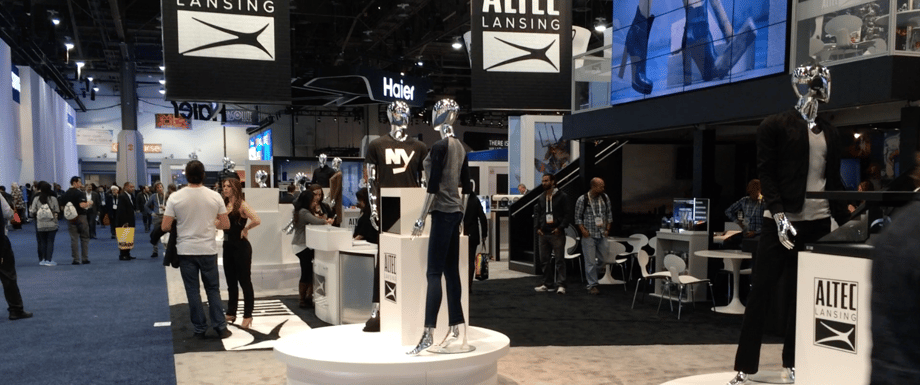 1/ Making the most of your available space
Okay, so maybe you did not get that prime location you were initially hoping for. Instead, you need to do the best you can with what is available to maximise your presence and gain the most of your investment. Let's pretend you got a corner spot at the venue and now seemingly run the risk of people looking straight past your stand to see what awaits in the next aisle. A solution to this common problem is placing a visual stop sign so close to the aisle that people cannot miss it and automatically direct their attention to your booth instead.

Maybe you were assigned a spot close to an exit? In this case you need to design your stand to compensate for the natural inattentive behaviour that your audience will have, as they are already mentally filled and their attention is fixated on passing through the door. In that case, you might want to design your stand space to draw people closer in a calm way, without bombarding their senses with low-hanging screens boasting your commercials. Either way, you need to focus on the specific circumstances and take action accordingly.
This action could be placing brightly coloured focal point showcasing just one single product, ie your main product, or it could be mounting wooden cases on the backwalls, shelves or panels in wood or brightly coloured acrylic to highlight a product or some important information.
Making use of all of the available height at the expo is another way to go. Mounting a tall item for everyone to see, even across the expo venue, or simply building a taller-than-average backwall will draw focus and ensure your stand better attention. You also have an opportunity to show your product in slightly more untraditional ways. If your company makes paper for books or pamphlets, you could create a setting with armchairs and a coffee table perfect for reading. Maybe you manufacture outdoor clothing and illustrate this by having harnesses for rock climbing hanging from the ceiling - or sleeping bags and a tent displayed as well as the garments in question. Or maybe your stand features speakers with subtle noises of splashing and waves crashing if you sell boats. Whatever your company does, make sure it is communicated to your audience in a smart and memorable way.
The options are endless, and this kind of surprise is a good way of enticing an audience and making them come closer to figure out, what you are doing – especially if you make sure to provide a sensory experience different from that of the other stands.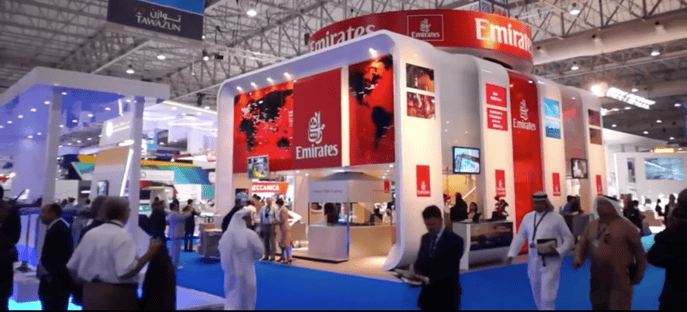 2/ Activate your audience
Once people are drawing near, you want them to stay long enough for you to make an actual impression and get them to think about you after they leave. Interaction and engagement is vital to making people remember more accurately, so making people experience your company has a much bigger impact that simply running through the normal sales pitch written in bullet points behind you. Any means of trying, sampling, or in some other way experiencing your unique USPs is recommended. As part of your activation, you could even make a competition or a lottery that people participate in while at your stand, but has prizes handed out at the end of the day. Take some time to consider which element of activation in your stand that will make sense for your specific business situation and set it up. It should be fast and easy, and the prizes should be more than the run of the mill logo pen or candy box.
3/ Leaving a mark
As people leave, you want to give them something to remember you by, and the traditional item is the ubiquitous business card and glossy pamphlet, but handing out something that the audience actually finds useful is often a lot better and has a better effect. You could make a small water bottle for thirsty customers, you could give out coasters in the shape of your product, or you could hand visitors a good quality notebook to use at the keynotes.

The point is to hand out stuff that is not simply 'stuff' but has a value so that your audience will consider bringing it home – thinking about you when they go over their notes on the event or as they place their Monday morning coffee on a coaster from you. A nice thing to add to your handouts is something to carry the collected event items in, like a small and simple tote bag – preferably reminding them of you with a logo or you key message payoff. If you intend to give out brochures or catalogues in printed form, remember that it is crucial to get the quality and feel just right, and keep in mind that your audience will only bring home a rather limited amount of printed items from the fair. Make sure that your brochure is not the one ending up in the hotel trash bin.

4/ Designing an impression
Creating the actual stand is a matter of attracting the right audience with whatever means available and applicable. If this is your first time attenting the specific fair, make sure your get as much info, pictures or even video of the venue and especially of your specific spot. "Was that pillar supposed to be there?" "Is it really that close to the exit?" are questions you do not want to have to address standing at the venue ready to set up the stand. Obtaining enough info to visualise your stand and design your concept in detail will save you time and minimise the risk of last minute spending on hiring help or trying to get friendly venue staff to pitch in.
A company within the energy sector might have lush green patches on the floor for grass, or place big plants in the stand, or perhaps apply wooden furniture and shelving to get the audience to think along the lines of caring for the environment. A manufacturer of equipment for heavy industry may want to display steel or wrought iron to signal strength, and a business in health care might use minimalism and mellow colouring to show a focus on cleanliness and caring for people.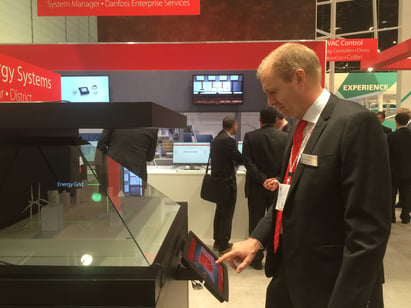 Another vital means of directing audience attention is working with lighting. A light blue or green backlight setting in the stand of an environmentally friendly cleaning supply manufacturer could be the right way to go, whereas a maker of solar panels might choose yellow lighting and use one single white spot to focus attention on a display of financial savings from using solar panels in various situations. It could also be something as simple as switching out your poster walls with lightboxes, to create a mellow light impacts on your stand. Once again, it is a matter of paying attention to your company values and reflect these in the choice of materials, lighting, and creative design.
The same goes for your choice of writing and words. The text in your stand should be visible from a distance and easily perceived. This means choosing the right font in suiting colours and stating your main message clean and simple. Restrict your choice of messages, even though it is hard.
Perhaps you could explain your entire business in an simple infographic instead, or maybe you want to display your aim and mission statements in a series of graphic posters with photos. If possible, you might want to consult professionals and get their input on the graphics of your choice, and if not, simply remember that your audience is charged with impressions from all sides at the event, and your display should be bold, but simple and easy to understand.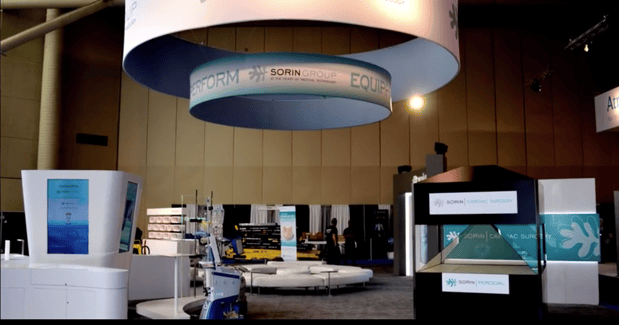 5/ Completing the experience
Remember that your trade show attendance is about giving your audience a good complete experience, so begin emphasising the event a good while before you go. Talk about the trade show on your blog and website, use your social media channels to say how excited you are to go, and generally explain to people what they can expect from visiting you at the expo, so they get why they should come by and see you.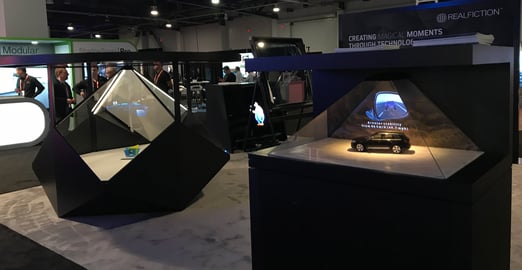 At the expo, your main focus is giving people a good sense of your business and something to take home, not in the form of trinkets and candies, but something valuable that makes them think of you.

You might hand out little USB flash drives with all the relevant info or a presentation, or perhaps you want to give your audience URL access to a special part of your website only for people in the know.

If you're opting for USB drives, don't forget to make those stand out too, either by ordering them in your company's main color, or placing them in a little box with a note.
If the fair does not provide the option for scanning leads via badges directly, be sure to have a follow-up procedure succeeding the expo as well as the means to get in touch with new interesting leads or partner prospects. And most importantly, try to reach out to them on the very day they visit you.
The most common reasons companies don't get the full potential of their trade fair appearance.
Not having a detailed plan with goals, equals no means of measuring success.

Failing to create hype prior to the show via email, web and social channels.

Little knowledge about the venue and stand space, which means no way of reaching the full potential in designing your stand.

Your communication/message lacks creative differentiation from the competititors.

Slow follow-up process afterwards to interested people.