Web Summit 2015: Realfiction Demonstrates the Power of Holographic Storytelling
2. December 2015
Realfiction
From November 7 – 10 this year, Web Summit 2015, "the best technology conference on the planet" showcased the best and brightest in the industry.
Web Summit is an annual technology conference held in Dublin, Ireland since 2010, and has grown to over 42,000 attendees from more than 134 countries. This year, Realfiction was selected as an Alpha exhibitor, and was in attendance with their own exhibition stand.
With stunning its holographic display, Realfiction's Dreamoc certainly stood out from the crowd and had everybody talking.
Realfiction Drew in the Crowds
As noted by Norm Johnston, Global Digital Leader at Mindshare: "People love video, because it's an emotive experience."
Realfiction understands the need for brands to connect with users on an emotional level in order to stand out from the crowd. From the very beginning, the Realfiction booth was crowded with curious onlookers, fascinated by the holographic display from the Dreamoc HD3.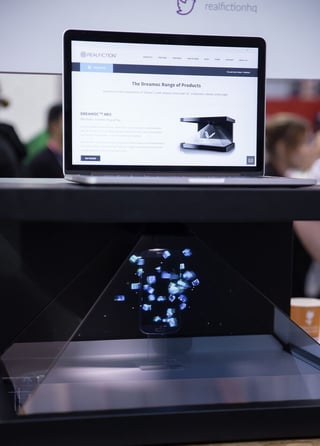 While watching the content, visitors took photographs and asked plenty of questions – including wondering whether the Samsung phone inside the display was real or another hologram! This just goes to show the incredible quality of the Dreamoc animations, as the Web Summit attendees were already quite knowledgeable about holographic displays.
Comments From Visitors
While most exhibitors at the event opted to showcase their software using computers and attempted to entice visitors with free pens, candies and umbrellas, the Dreamoc caught everyone's attention all on its own, drawing plenty of curious visitors to the Realfiction booth all throughout the day.
Developers at the event could see the huge potential and the limitless interactive possibilities the Dreamoc offered – including ideas for applications and game content. Aside from developers, tech start-ups and designers also took note and saw how they could promote their products in a spectacular new way using the Dreamoc. Showcasing abstract products that cannot be represented physically – such as software – can often be challenging, but the Dreamoc makes this possible in an exciting and entertaining way.
Visitors were especially impressed by the usability of the Dreamoc, and that they could simply 'plug and play' without having to worry about particular supported file formats or any special software.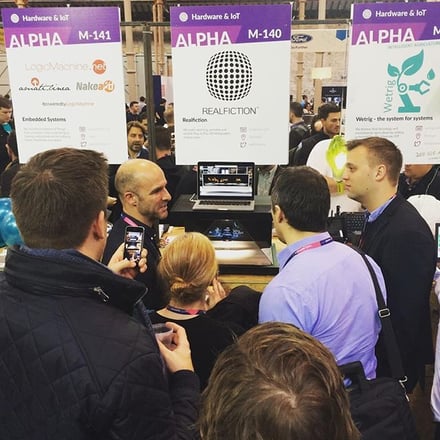 Do More with the Dreamoc
It wasn't just developers that were interested in the Dreamoc. One visitor to the Realfiction booth was an architect from New Zealand with an interest in 3D modeling and augmented reality. He fell in love with the Dreamoc, but wasn't sure how he could use it. However, after Realfiction introduced him to the Realtime PARTCloud 3D modeling feature, he found a new way to make his presentations more exciting for his audience.
Another visitor thought the Dreamoc was remarkable while being extremely affordable, and was quick to ask why the Dreamocs are not everywhere! The Dreamoc uses high quality glass and sharp animations, but thanks to its affordability and limitless interactive possibilities, the Dreamoc HD3 is perfect not only for big brands like Coca-Cola or Hummel, but for smaller brands too.
Creating Killer Content
On the second day of the event, Soply used Realfiction's Dreamoc HD3 on their stand, showcasing the power of the holographic display with their Soply logo animation.
Soply had some key takeaways from the event, including comments that backed up Realfiction's focus on interactive holographic stories.
Anna Dickson, Photo Lead at Google, noted that: "Visuals are what drives the story – it's what people are sharing," while Thomas Crampton, Global MD for Ogilvy stated that brands need to accommodate persona based content, relevant for the target they want to reach.
Soply have created the ultimate platform for 3D animators, an online outsourcing platform that puts buyers and 3D holographic animators in contact with a global network.
Whether you're a creative looking for your next 3D animation project, or a customer looking for talented artists to create your next holographic story, finding and creating holographic animations for the Dreamoc has never been easier with Soply's unique 3D animation marketplace.
Key Points Covered in the Event
While there were many brands present as well as several high profiled speakers, the overall message of the conference can be summed up in a few points.
Content needs to be high quality meaning it has to provide value to the prospect

Content needs to be relevant to "personas", meaning that it is imperative that one conducts the correct demographic research prior to creating content

Content needs to be consistent. Once you have started to deliver content, people develop expectation and fall into routine. Inconsistencies in content frequency can have a negative impact on the overall engagement of your target audience.

Content needs to be unique. In other words, it needs not resemble the generic content online but something that reflects your brand while catering to the specific needs/wants of your clients.
Creating killer content is as important today as it was in the early days of the Internet. Understanding this aspect is key to driving up sales and creating deeper engagement between brand and prospect.
Realfiction ticks all the boxes with the Dreamoc HD3:
In terms of Quality, the Dreamoc delivers 3D graphics in HD, beautifully lit to create a realistic illusion of the third dimension.

In terms of relevance, Realfiction provides resources to all clients in terms of content partners that have "on-hands experience" with the holographic displays. In other words, they can essentially create any content you desire based specifically on your demographic research.
In relation to consistency, the Dreamoc has several options and with the Realfiction App, you can even create playlists. Meaning you can have a constant flow of content without interruption, this provides a deeper sense of engagement for the potential buyer.
In relation to uniqueness, the Dreamoc delivers content in the third dimension and integrates with physical objects which distorts the boundaries between "what is real and what is animated". This experience is highly captivating and prospects flock to these devices precisely because it is something so novel and unique, it demands attention.
Realfiction is always pushing the boundaries when it comes to content presentation. As many brands discovered this year at the Web Summit, if you want to be the center of attention, use a Dreamoc!