How to accelerate your product prototyping using 3D holographic animation with 3D Printing
3. February 2016
Realfiction
Eliminate costly prototyping cycles and speed your product to its intended market by combining the flexibility of 3D holographic animation with 3D Printing.
Imagine how much fun you could have mocking up rapid prototypes in no time, without losing the communication punch that 3D provides?
In this post we show how 3D printing is revolutionising design and how your business can get to the next level, much simpler and definitely more profitably compared to designing products the "traditional way".
Why 3D printing is essential for today's designers
In art:
For artists, 3D printing creates a new canvas within a 3D space, thus inspiring some jaw-dropping 3D sculptures. The difference, however, comes down to the creation of these art pieces. As opposed to assembling or sculpting an object, the artist renders out the idea he or she wishes to obtain and lets the printer do the work.
In architecture:
Within the realm of architecture, 3D printing is providing new solutions for affordable housing. In China, designers have successfully printed and assembled a two-story house within a few days – essentially creating cheap liveable housing on the fly. Preliminary results are amazing leaders in this field.
In business:
Finally, for businesses big and small, a 3D printer can significantly reduce the price of prototypes as the medium prints out any piece you need. Instead of purchasing costly material, you can have a working prototype – complete with all gears and bolts – printed out, giving you something to present to potential investors or customers quickly and easily.
How Realfiction used 3D print technology in their Star Wars animation
Thanks to 3D printing, Realfiction created a 3D model of Star Wars' Millennium Falcon, which was then brought to life with 3D holographic animations inside the Dreamoc. See our results for yourself with this quick video recording!
Ensuring that your real-life object and your animation match up can be challenging for some content creators, as the animation must be sized and positioned exactly right in order to create the holographic illusion within the Dreamoc.
It's also important to note that once the animation is positioned in line with the real-life object (in this case, Star Wars' Millennium Falcon) the object in question must always stay in that position, at the right angle and height – so finding the right prop or product holder can be a challenge!
As you can see in our video, the 3D printed Star Wars stand worked really well – thanks to Seenspire for their creative idea!
Realfiction found that there are three main benefits to creating 3D printed props for use in Dreamoc animations:
3D printed objects give you 100% freedom when you create, allowing for complete flexibility in height, weight, colour, shape, and angle.
You can print out as many pieces as your need or just use it as a prototype.
3D printers are readily available – you can get your own 3D printer in your office and experiment as you like!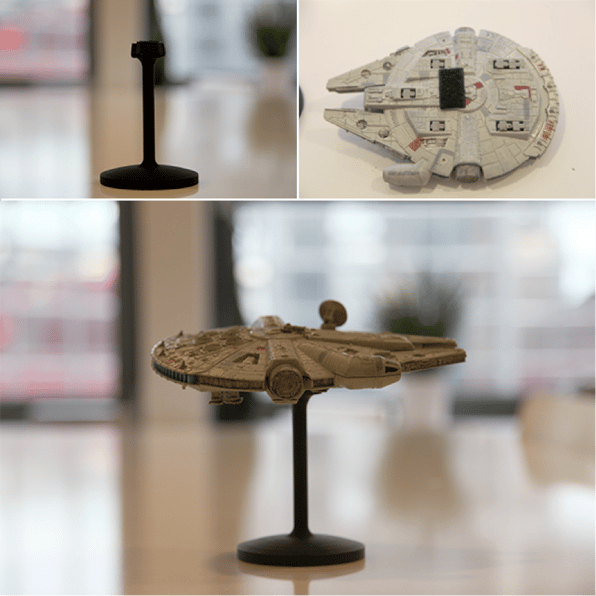 See how to maximise the benefits of 3D Printing for your business with Realfiction's Dreamoc
3D printing obviously requires design knowhow, and while typically the design is done on a computer, it isn't quite the same as designing it in a 3D space. This is where the Dreamoc becomes a tool for anyone who wishes to create 3D objects in the dimension it is destined for.
Thanks to Realfiction partner Cadenas, cloud software is now available that allows artists to instantly see and experience their 3D designs from every angle, and even in combination with other physical elements, thanks to the technology of Dreamoc 3D holographic displays.
When it comes to 3D printing, the Dreamoc actually provides the 3D canvas you need to tweak your design prior to printing it out. Here is a quick video recording we made using a Minion to show you just how easy it is to create and interact with your designs in 3D.
You can also interact with your designs using Leap Motion – see it in action!
Imagine how much simpler it would be if you could design in the third dimension? You'd be able to flip and twist your design to observe every angle prior to printing it out. This will help you reduce potential errors and give you a feel what the object would be like when physically manifested.
It is only natural that as holographic design and 3D printing merge, you can expect to see more of this technology in the future. One thing is certain, holographic technology and 3D printing technology will absolutely revolutionize the world.