PARTNER SPOTLIGHT: PM Screen
19. December 2017
Realfiction
Whether it's a small startup in need of the best solution for an upcoming tradeshow, or global brands such as Pandora, Swarovski, Nike, or Pepsi looking for a wider audience, PM Screen helps tell compelling stories that capture the essence of each client's purpose. Partnering with RealFiction since 2014, the multimedia specialists successfully create custom installations in close collaboration with their clients, helping them stand out from the competition.
For years, PM Screen has helped clients stand out by utilizing the latest technologies. From startups to major global brands, they all have a common need to tell a great story in an attention-grabbing way. Mixed reality has done wonders for this purpose.

"We have been working very successfully with RealFiction for about 3 years now. It's been a great relationship and their products have become a huge, growing part of our business", says Managing Director Darius Cincys from PM Screen.
Darius Cincys has no doubt why mixed reality works so well in this advertising age – it is all about being able to create a space to tell a story.
"We are all hit with so many advertisements throughout our daily lives, that we have become experts at tuning them out. But RealFiction's displays are so unique and captivating that they cause everyone within vicinity to stop and pay attention to what's going on", he says.
Holograms allow brands to capture the attention of their customers, conference attendees or office visitors – and thus creates the space and attention it takes to be able to tell a story. Customers actually paying attention to you means room to get your message through.
Custom solutions based on client needs

Creating captivating animations designed to fulfill clients' needs, PM Screen's display solutions are sure to turn heads in every setting. This is based on a carefully designed process, individually tailored to each client, from the very first meeting to the final customized solution.
PM Screen works with a philosophy stating that each client is different, and so are their needs and goals. This is why the agency begins every new project by learning the client's needs and most important part of their business, product or message. "It is always a collaborative effort with the client to determine what the needs are, and then we create a custom solution for their needs", says Darius Cincys.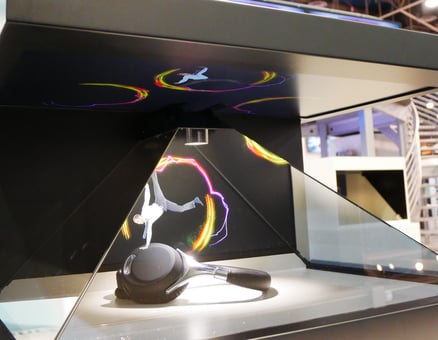 Gaining traction in the real estate industry

With offices in Lithuania, the United States and Dubai, PM Screen is mostly working with major brands with a retail presence, such as Pandora, Swarovski, Nike, or Pepsi. These clients, representing industries as diverse as consumer electronics, jewelry and designed and tech accessories, have shown themselves head over heels for mixed reality as part of their retail efforts.

Recently, the agency has also been gaining traction within the real estate industry. The huge value in showing properties and new developments through mixed reality has led to some major real estate companies turning to PM Screen for help. Besides creating custom content for the Dreamoc, the multimedia specialists believe that the DeepFrame will be a great fit for the real estate industry of the future.
Charging into the commercial future
Many have predicted a bright future for virtual reality (VR), augmented reality (AR) and mixed reality (MR). According to PM Screen, all three will continue growing into bigger and more important parts of everyone's lives. And while VR will continue to be a massive component in some niche verticals like gaming, AR and MR on the other hand will become a game changer within the commercial world.
"I believe that the adoption of AR and MR will continue to rise, especially for commercial purposes, because they allow more than 1 person to interact with the technology at the time", says Darius Cincys, and continues
"most businesses want to stay on trend, but have a hard time figuring out a way to adopt the newest AR and MR technologies. That's the biggest reason RealFiction products are so popular and a great fit for just about any industry – they offer a 'plug-and-play' solution to attract the attention of customers and peers."