Deciphering the Supply Chain
How partnering with a Global leader in Flat Screen manufacturing enables Realfiction to deliver reliability at scale, whilst ensuring a future-proofed cost base for its Partners.
by Flemming Skriver Kloster, Supply Chain Director, Realfiction
There is no doubt that Realfiction has revolutionized the way that brands undertake their marketing processes in a wide array of venues such as trade shows, in­store sales and product launches with their innovative Dreamoc. The power of holographic marketing has proven to be a hole-­in­-one when it comes to conversions, brand exposure and an unforgettable consumer experience.
While the technology behind the Dreamoc is relatively new, the story behind the creation of these holographic innovations is quite endearing and the partnerships they have forged over the years have given them the capacity to reach every corner of the globe.
A recent interview with Flemming Skriver Kloster, the Supply Chain Director at Realfiction and a master of R&D who has worked with famed companies such as Bang & Olufsen, helped shed light on how Realfiction underwent its rise to power.
Flemming Skriver Kloster and the International Connection
Mr. Kloster, who has worked with several major brands in the past joined forces with Realfiction after he left his position at B&O. His work with the former company enabled him to enter into the Asian market, where most of the world's electronics are manufactured, and he played a pivotal role in the development of the Dreamoc.
It was his connection with one of the top electronic engineering companies in the world, AmTRAN based in Taipei, which eventually led to a global capacity and reach for
Realfiction's Dreamoc. His personal and professional relationship with the CEO of AmTRAN, Mr. Alpha Wu, enabled him to create a win­win scenario for both companies and allowed the Research and Development of the Dreamoc to reach the exquisite quality that many major brands in the world take advantage of today.
A Brief Overview of AmTRAN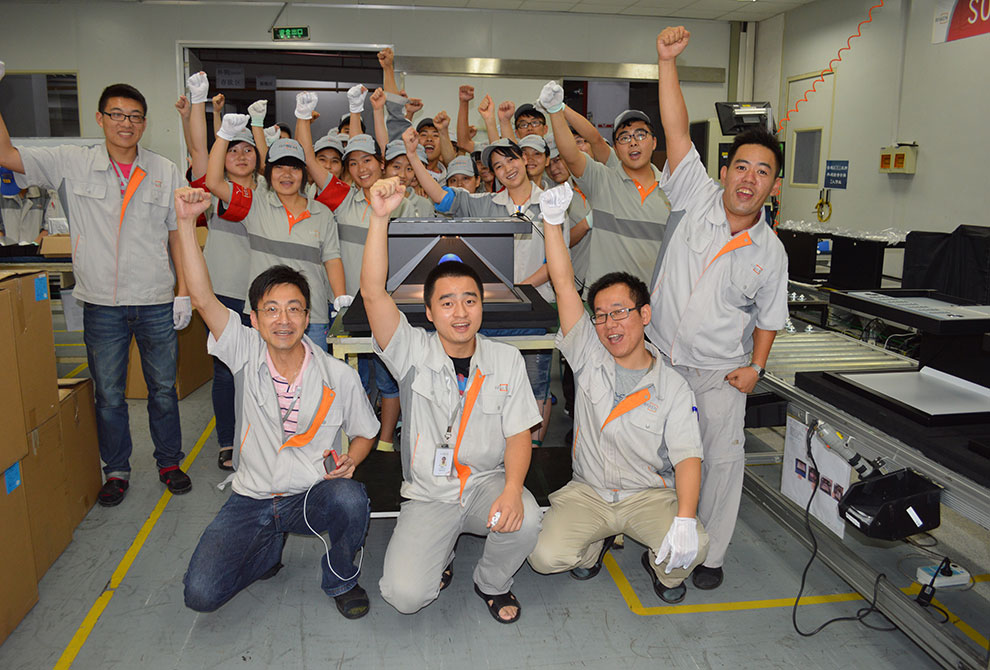 AmTRAN, owned by Alpha Wu who is the sole proprietor, are mavens in the world of Research and Development with 300 top­notch engineers developing everything from hardware to software.
AmTRAN began their enterprise by focusing on television and monitor sales and are one of the world leaders in Flat Screen development.
Their brand, Vizio, which is one of the most sold television brands in the US market, allowed the consumer market access to more cheaply priced devices, yet maintained the same quality as competitor brands such as Samsung and Sony. In addition, they also own the TV brand names of Sharp and JVC in the USA and also supply OEM TV panels for some of the largest brands.
To put this in layman's terms, if there was a proverbial hill in the world of television production; AmTRAN would reign as king supreme. They are currently producing 7 million screens a year, meaning that capacity of production is never an issue.
With a concrete understanding of building a supply chain, AmTRAN managed to etch out this monster brand and virtually influence the global television market.
Where RealFiction comes into play
Mr. Kloster, who has known Mr. Wu since 2004 as a trusted vendor, approached AmTRAN when Realfiction decided to scale up their business to meet the needs of an international market. They decided it was time to take the Dreamoc from producing hundreds per year into the thousands and beyond.
Knowing that AmTRAN is a reliable, creative and scalable business, the partnership with Realfiction was mutually beneficial.
In fact, in a recent interview with the CEO of AmTRAN, Mr. Wu commented on the innovative approach of the Dreamoc saying: "W​hen I first saw the Dreamoc I thought it was wonderful. The stereoscopic image presented by the product gives us a very good visual effect. I have never seen something like this before and I am very impressed. This is why we immediately agreed on the cooperation."​
Mr. Wu also sees a great future for further development of the product and believes that the devices can be scaled up to bring forth a new horizon in holographic storytelling, effectively merging the "real world with the dream world".
Once the details of their partnership were established, AmTRAN helped developed the Dreamoc as we know it today.
What does this Partnership mean for brands all over the world?
For brands of all shapes and sizes, this partnership between Realfiction and AmTRAN is exceptional news indeed. It means that no matter where you need a Dreamoc, it will arrive in pristine condition with the assurance of flawless execution that brands like Samsung, Sharp and B&O rely on to deliver their products.
This means that you will only ever receive the highest quality technology, tried and tested for quality and performance. It means that Dreamoc will continually be innovated to provide a greater user experience that will launch your brand deep into the subconscious of your consumers.
The Realfiction ­AmTRAN partnership is your assurance that when you order a Dreamoc in any of its presentations, you will have a crystal clear display with optimal functionality and unmatched quality. It means that there is no limit to the amount of Dreamocs you can acquire and that all logistics are taken care of.
Affordability and scalability become very real factors to consider for any brand wanting to enter into the exciting world of holographic marketing. This might very well be the first step to a completely new way of perceiving the world around us. A world where fiction and reality have merged into one fantastic presentation, taking consumer experiences into the third dimension.
Realfiction now has the capacity to produce hundreds of thousands of superior quality Dreamocs to supply any marketing need you could ever face.
As for Mr. Kloster, he believes that Realfiction is on a steep upward trajectory and believes that the company could easily become a $200 million dollar a year enterprise, and with the marketing results of the Dreamoc in action, this projection could become reality sooner rather than later.
An Exclusive Behind the Scenes of the Dreamoc Development
We believe that our consumer brands deserve to see what goes into creating the Dreamoc and thus have included a special exclusive behind the scenes peek into the Dreamoc development.